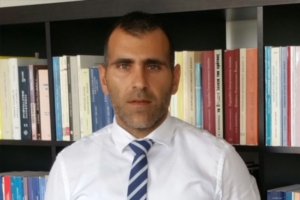 Theocharides K. Anastasis was born in the city of Paphos, in 1981.
In 2001, he began his undergraduate studies at the Law School of the University of Athens, at the Department of Political Sciences and received a bachelor degree in Political Sciences and Public Administration, with specialization in International and European Studies.
After completing his undergraduate studies, he decided to move to the Federal Republic of Germany, so as to attend the postgraduate program in European Law (LL.M Europaisches Recht), of the Europa Institut. It has to be noted, that the aforementioned postgraduate program is directly funded by the European Commission. The specific postgraduate program, with a specialization in Foreign and International Trade, was also successfully completed by Theocharides K. Anastasis.
After his return into Cyprus, his pure and unlimited desire for further knowledge and learning, led him to attend an additional postgraduate degree, notably a postgraduate program in International Relations (MA International Relations).
Additional academic knowledge and expertise, was gained by Theocharides K. Anastasis, when he attended and finally received a Law Degree (LL.B Law).
Theocharides K. Anastasis speaks fluently English and German. Moreover, he has attended many specialized legal seminars in Greece, Cyprus, Germany and Luxembourg. Many legal articles of Theocharides K. Anastasis, as well as articles on International Relations' matters, are weekly published on electronic media.
He specializes in the following areas of law:
Corporate Law
Real Estate Law
European Law
Contract Law
Torts
Immigration law
Last but not least, Theocharides K. Anastasis has worked in various organizations and enterprises in Cyprus and abroad and thus gained significant practical knowledge and experience.
Today, he is considered as one of the associate partners, at the THEOCHARIDOU & ASSOCIATES LLC.