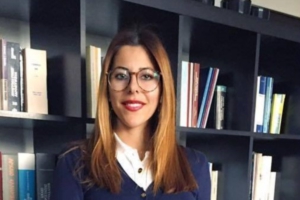 Theocharidou K. Kalypso is practicing the legal profession, since Μarch 2011 and she comes from the city of Paphos.
In 2004, she began her undergraduate studies at the Law School of Athens and she managed to graduate, only four years later. Since her very early age, she expressed her unlimited desire for involvement in public matters. Consequently, she was qualified in 2001, as one of the representatives of the Cypriot delegation that took part in the Synod of the Greek Youth Parliament.
After completing her undergraduate studies, in 2010, she started her practice, as a trainee lawyer, at the Office of the General Prosecutor. The same year, she successfully attended the examinations, set by the Legal Council.
In 2011, she decided to attend the postgraduate program "International Relations" (MA).
During her studies, she showed a boundless enthusiasm not only to obtain knowledge, but also to participate in various international Fora. In 2008, she participated in the XII National Youth Parliament "Shaping Scenery of the International and European reality" and additionally an year later, she took part in the World Youth Forum, held in Hague.
Theocharidou K. Kalypso has also participated in a great number of legal conferences, amongst them:
– "Medically Assisted Reproduction in Cyprus",
– The Professional Conference "Combating violence against women",
– "The Law of Necessity and the Republic of Cyprus: 50 Years after Ibrahim's case."
She also attended and/or participated in several scientific meetings that took place in Greece or in Cyprus, amongst them:
– "Legislative and jurisprudential developments – the freedom of establishment and the transfer of the register office of companies, according to the EU Company Law.'
– "The 4th Interstate Application of Cyprus against Turkey"
– "The European Convention on Human Rights and the International Law"
– "10 years, since the establishment of the International Criminal Court in Hague"
– "Surrogate Motherhood – Legislation and Prospects"
Many legal articles of her are published in the legal journal "Legal Step", as well as in specific electronic media.
Theocharidou K. Kalypso has also developed an important voluntary action. She is considered as an active member and/or volunteer in the following Associations/Organizations:
– Association of Runners "PERICLEUS DEMETRIOU"
– Association of Runners "Stelios Kyriakides"
– Association of ARGONAFTES
– Volunteer in Red Cross Cyprus
– Member of the Pancyprian Association of Cyprus Volunteers
– Blood Donor
– Member in EUROPA DONNA CYPRUS
– Member of the Cultural and Historical Association "EVAGORAS PALLIKAREDIS"
She speaks English and attended several specialized legal seminars in Greece, Cyprus and the Netherlands.
Theocharidou K. Kalypso specializes in the following fields of law:
European Law
Contract Law
Torts
Administrative Law
Criminal Law
Succession Law
Last but not least, she has worked in various organizations and enterprises in Cyprus, from which she gained significant practical knowledge and experience.
Theocharidou K. Kalypso is the founding partner and one of the associate partners, at THEOCHARIDOU & ASSOCIATES LLC.